Tuesday, March 15, 2005

'Dogs break out of chill, warm up to down Bruins

Provo overcomes its 'St. George-itis' for cold-weather win
By Rob Weiler
For the Deseret Morning News
PROVO — After a long week of baseball under the sun in Southern Utah, the Provo Bulldogs came out playing as cold as the weather in Utah Valley.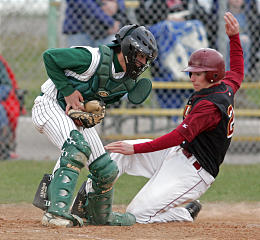 Mountain View's Jimmy Little, right, slides home as Provo catcher Josh Beasley ties to control the ball.

Jason Olson, Deseret Morning News

      Facing an early deficit after an inning and a half of play against Mountain View, the Bulldogs warmed up at home in time to rally back and beat the Bruins, 7-4.
"That was already our seventh game in six days, and this team, they just surprise me every game," said Provo head coach Lance Moore. "I think it was St. George-itis. I could tell we were in for a rough start, but these guys have been spoiled with the first two weeks of weather we've had."
The Bruins jumped on Provo starting pitcher Dave Griner as Jim Little's lead-off triple set the tone for Mountain View early, batting through their lineup in the first inning and taking a quick 3-0 lead on four hits. Little would score again in the second inning from third base on an RBI single by Chris Benson, giving their team a four-run cushion.
Benson played well defensively for Mountain View as well on the mound. The starting pitcher allowed only two hits and two runs in the first four innings, striking out five Provo batters in the process.
But the Bulldogs came to life in the bottom of the fifth inning. Trailing 4-2, Provo scored four runs on relief pitcher Collin Young. With one out and runners in scoring position, Brock Brimhall hit the first of three consecutive RBI singles to take a two-run advantage.
"We're a fairly patient team at the plate, and when we make guys work a little bit, we can do some good things," Moore said. "We're not gonna hang any big 10-run innings, but what we will do regardless of what's happening, we'll always battle."
Despite the shaky start, Griner was able to settle down and finish the game, giving up only four more hits over the next six innings.
"I can't say enough of the effort I got from Griner on the mound today," Moore said. "He's kind of a spot starter and he comes up with a complete game. I just asked him how come he didn't warm up because he looked great after (the first inning)."