Friday, April 22, 2005

Pitcher hurls Dons past Provo

By Jim Rayburn
Deseret Morning News
PROVO — Dustin McBride is not the type of pitcher that will wow you with his stuff.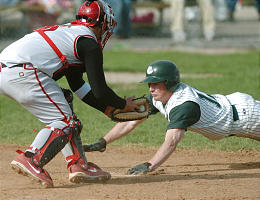 Provo's Brock Brimhall, right, is tagged out by Spanish Fork catcher Kaid Gordon as he dives for home plate Thursday afternoon in Provo.
Keith Johnson, Deseret Morning News

He has a fast ball that peaks around 85 mph and his breaking pitches appear to be average. But still, the senior right-hander for the Spanish Fork Dons is putting together a fairly impressive season. He's accrued four wins on the season, has an earned-run-average around 1.50 and strikes out about one batter per inning. His location is outstanding.
"He's the kind of pitcher that lulls you to sleep," Dons coach Jim "Shoe" Nelson said. "When you watch him warm up you don't think he has that much, but the next thing you know it's the fifth or sixth inning and you don't have many runs off of him and only two or three hits."
The Provo Bulldogs found out exactly how effective McBride can be Thursday afternoon in their 7-2 Region 6 loss to the No. 2 ranked Dons. In six innings of work, McBride allowed only three hits and struck out nine. During one stretch he set down 10 straight Provo hitters, and retired the side in order in four of the six innings.
"He just cruised through those middle innings," Nelson said.
Backing up McBride's pitching were the always-dependable Dons' bats, which pounded out six doubles. Matt Sanford drove in two runs with two opposite-field doubles and Kaid Gordon drove in one with a double off of the left-field fence. Aaron Binks, Jace Brinkerhoff and Brady DeGraw also doubled.
But even with all of the extra-base hitting, Spanish Fork still needed a little run manufacturing to score. The Dons pushed two across with sacrifice flies, scored another on a double-play grounder and one more on a wild pitch.
Provo did some run manufacturing of its own to take a 2-1 lead after one inning. Travis Ayoso and Josh Beasley hit back-to-back singles, with Ayoso eventually scoring on a wild pitch. Then, after another Provo batter walked, Beasley scored on a double steal.
Even though those were the only runs the Bulldogs scored they were still in the game until a pivotal play and call in the fifth. With Spanish Fork leading 5-2, the Bulldogs had runners on first and second with two outs when Cam Lunt singled to right field. Binks, the Dons' right fielder, came up with the ball and fired a strike to home to nail the runner and end in the inning on a bang-bang play that could have gone either way. Had the runner been called safe the score would have been 5-3, with the tying runs on base and with the meat of Provo's order coming up.
"That was a very big play in the game. Things could have turned around right there," Nelson said.
After McBride retired the side in the sixth, Jace Brinkerhoff took over in the seventh and set the Bulldogs down in order to preserve the win.
Spanish Fork will host the American Fork Cavemen at 11 a.m. Saturday in a region make-up game. The Dons rematch with top-ranked Springville is scheduled for next Thursday at Spanish Fork.
Provo remains tied with Payson for the region's fourth and final playoff spot with two league wins each. The Bulldogs and Lions meet Tuesday in Payson.