Wednesday, May 4, 2005

American Fork takes care of business

By Jim Rayburn
Deseret Morning News
AMERICAN FORK — A Bachman Turner Overdrive CD must have been the pre-game music of choice Tuesday for the American Fork Cavemen, because once they took the field they were "takin' care of business."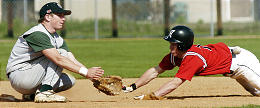 American Fork's Austin Haws dives in to beat the throw at second base as Provo's Brock Brimhall prepares to make a play.

Scott G. Winterton, Deseret Morning News

No coin flip was going to decide the Cavemen's post-season position this year. They were determined to determine their own fate this time around and, after a 10-1 thumping of the Provo Bulldogs, they'll go into next week's state tournament as the No. 3 seed from Region 6 and will play at either Box Elder or Bonneville on Tuesday.
Had Provo been able to pull off the upset road win, the Bulldogs would have been tied with the Cavemen and Payson Lions for third, which would have created the need for a coin flip and a playoff just to qualify for a play-in game. Last year four teams tied for second and a coin flip determined the seeding.
"We didn't want that to happen again," Cavemen coach Jared Ingersoll said. "So we needed to take matters into our own hands and get the job done."
The Lions are at the No. 4 spot and will have a play-in game on either Thursday or Friday with Pleasant Grove for Utah County's final playoff spot. Provo's season is over, but the young Bulldogs have a bright future with almost every starter returning next season.
The Cavemen gloves, bats and arms were the determining factors Tuesday — especially the bat and arm of Hap Holmstead. The senior right-hander allowed only a first-inning run and then gave up only four hits the rest of the way. In the final six innings, Provo mounted no serious scoring threats.
"Hap does a good job when he throws strikes and keeps the hitters off balance," Ingersoll said.
The good outing on the hill is Holmstead's second straight. He'll need to continue his stellar pitching for the Cavemen to have any playoff success.
"That's the kind of pitching we've expected out of him all year," Ingersoll said.
As good as Holmstead pitched, he might have been better at the plate. He knocked in five runs on two singles and a double.
Holmstead's first two RBIs came in the first with the score tied 1-1. With runners on second and third, he literally stuck his bat out on a low breaking pitch away and slapped a single over first. Taylor Mangum smacked a double to the right-field gap two batters later to make the score 4-1. Another run scored on a wild pitch and the Cavemen finished the opening frame ahead 5-1.
Holmstead came up again in the second with two out and runners on first and second, and drilled a liner to the left-field gap to score both runners. Gentry Bean drove in a run in the fifth with a single and Shay Conder knocked one home with a double in the sixth. Holmstead pushed Conder across with another single over shortstop.
While American Fork pounded out 14 hits, Ingersoll was more satisfied with the no-error effort from his defense.
"That's the kind of score we expect when our defense plays well," Ingersoll said. "Hopefully, that will continue over into the playoffs. We want to play good baseball this year in the tournament."